While we are practicing social distancing and teleworking during COVID-19, we want you to know that we remain open and available for consultations, meetings and mediations throughout this ordeal using virtual meeting apps and telephone. Just as we were on day many years ago, we remain capable of accessing all of our files remotely and conducting your business safely. We are here to serve you. Please reach out and be safe.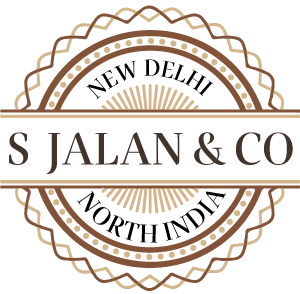 More than just a
typical law firm

Corporate & Commercial
The Corporate team of S. Jalan & Company, New Delhi caters to all the legal support/assistance required by its corporate clients, beginning from the scratch by setting up the same, the Incorporation, Drafting Contracts, Disinvestment, Joint Venture and further representing them before various Courts and Tribunals of Delhi.

Banking & Finance
S. Jalan & Company, New Delhi is one of the eminent law firms in Banking and Financial Laws and has earned its reputation by excelling in banking and other financial transactions.

Real Estate
S. Jalan & Company, New Delhi has been instrumental and has played an integral and crucial role in building up a significant real estate portal from the scratch. The Firm has advised many Developers & Builders on Infrastructure comprising of residential and commercial developments.

Family & Personal Law
S. Jalan & Company, New Delhi works in providing justice and equality even in complex yet dynamic Family and Personal Laws prevailing in the Country. The Firm has a tremendous experience in handling situations and disputes arising between Families. The Firm has deep knowledge and experience of handling Family issues of all Religions.

About us
S. Jalan and Company, founded by the renowned jurist Late Mr. Shyamanand Jalan, traces its origin to the 1950s. It is one of the oldest and best-known Law firms in Kolkata offering diverse legal services.
The firm since has developed a multi-locational presence in India with it's fully functional offices at New Delhi and Calcutta with associate branches at Mumbai, Goa, Lucknow, Ahmedabad and Kochi.
Languages in which the members of the firm are proficient: English, Hindi, Bengali, Malayalam, Tamil, Telgu, Kannada, Oriya, Konkani, Marathi, Punjabi and other Indian Languages.

There is a great deal of room in the legal field for strategy, ingenuity, and unconventional thinking.  We deliver results through novel solutions and unexpected legal strategies The offices are fully functional, modern and well equipped with a legal support staff consisting of Lawyers, in-house counsels, professional retainers and paralegal personnel, accountants, hardware and software personnel and office administrators headed by a team of cohesive partners.
S. Jalan & Company, New Delhi is headed by Mrs. Asha Nayar Basu, Mrs Basu is also the Managing Partner of the Firm having an experience of over 20 years. She regularly represents developers, entrepreneurial investors, institutional investors, lenders and other parties in all aspects of transactional real estate. She is the Senior Standing Counsel for the West Bengal Pollution Control Board.

A significant portion of her practice is also devoted to representing individuals and families in custody and divorce from negotiation to litigation through trial in custody disputes, dissolution of partnerships and divorce actions.

Intellectual Property Rights
S. Jalan & Company, New Delhi has an expertise in complex IPR litigation and provides a full IP service in the areas of patents, trademarks, copyright, design, branding, trade secrets and unfair competition. The Firm services financial, commercial and industrial clients in communications, software, biotechnology, pharmaceuticals, broadcasting and entertainment, publishing, mechanical engineering, energy, consumer products and financial and banking services.

Environment Law
We at S. Jalan & Company, New Delhi are constantly fighting this noble fight towards saving and protecting the Environment. Our managing Partner Ms. Asha Nayar Basu is the standing counsel of the West Bengal Pollution Control Board and our team regularly appears before the National Green Tribunal and the Supreme Court on their behalf.

Entertainment & Media
S. Jalan & Company, New Delhi operates across the full spectrum of the entertainment and related industries. The sectors with which we are involved include all aspects of the music industry, theatre, film, television and video, sport, multi-media and computer games, publishing, advertising and marketing services, radio and merchandising.
January 20, 2021
A three-Judge Bench of the Supreme Court comprising of Justice Dr. DY Chandrachud, Justice Indu Malhotra, and Justice Indira Banerjee in the case of M/s. N.N. Global Mercantile Pvt. Ltd. v.  M/s. Indo Unique Flame Ltd. & Others, in the exercise of its civil appellate jurisdiction, has held that the ground- that allegations of fraud are not arbitrable as a wholly archaic view, which has become obsolete and deserves to be discarded. The Bench observed while holding rightly that the allegations of fraud concerning the invocation of the Bank Guarantee are arbitrable since it arises out of disputes between parties inter-se and is not in the realm of
[…]
January 20, 2021
Several pleas had been filed before the Hon'ble Supreme Court seeking its direction for initiation of Contempt of Court proceedings & punishing Reserve Bank of India Governor Shaktikanta Das, & others for allegedly &willfully violating the Supreme Court's the order/directions of September 3, 2020. The Supreme Court had passed the order on the loan moratorium case in Sept 2020 & said those accounts that have not been declared non-performing assets (NPAs) as of Aug 31, 2020, cannot be declared as such until further notice. The petitioners — Gorakh Pandurang Nawade, Suryakant Prabhakar Pawar, Pritam Sengupta, & Shanti Jewellers — had filed their respective
[…]
January 20, 2021
Last week, the Bombay High Court ruled its restrictions in power presided under 'judicial review' stating that Article 212 of the Constitution expressly prohibited Courts from inquiring into the proceedings of the State Legislature due to irregularity of procedure. The Court while refusing to intervene in the election of the Deputy Chairperson of Maharashtra Legislative Council, Dr. Neelam Divakar Gorhe, observed that the High Court is not an appellate body over the State Legislature. It stated: "While the High Court, in restricted circumstances, can exercise its power of judicial review to ensure that there is no abuse of power by the Legislature in respect
[…]
January 14, 2021
The Supreme Court expounds that acceptance of a contract with a variation is no acceptance but is simply a 'counter-proposal' which must be accepted fully by the original proposer before a contract can be said to have concluded between the parties. (M/s. Padia Timber Company(P) Ltd. vs. Board of Trustees of Visakhapatnam Port Trust) The judgment rendered by a Bench comprising of Justices Navin Sinha and Indira Banerjee came in an appeal by Padia Timber Company (Padia/ appellant) against an order of the High Court of Judicature at Hyderabad. The Court ruled in favor of Padia holding that the appellant
[…]
January 14, 2021
The Allahabad High Court has expressed that Public land in the State of Uttar Pradesh is most vulnerable to encroachment. Encroachment over such public land is not countenanced by the legislature. The Single Bench of Justice Ajay Bhanot while considering that encroachment on public lands causes irreversible damage to the public interest has observed that, "The Uttar Pradesh Revenue Code, 2006, is the response of the legislature to deal with the endemic problem of encroachment over public lands. The purpose of legislative intent will be defeated in case the statutory authorities do not discharge their statutory functions promptly." The council on behalf
[…]
January 14, 2021
On Tuesday, the Top Court has made an important observation that can go a long way in terms of promoting Gender Equality in the country. While taking up an Insurance Dispute, the Supreme Court said that the calculation of the Notional Income of Homemakers must be based on their work, labor, and sacrifices. The bench comprising of Justice NV Ramana, Justice S Abdul Nazeer, and Justice Surya Kant further noted that the observations is in "furtherance of our Nation's International Law obligations and our Constitutional Vision of Social Equality and ensuring dignity to all,"  The Court was dealing with a case in which one couple
[…]
December 23, 2020
The Allahabad High Court while dismissing a petition has held that any writ cannot be issued by the court under Article 226 of the Constitution for the matters pertaining to contractual obligation as these are a matter of private law. The Division Bench of Allahabad High Court comprised of Justice Surya Prakash Kesarwani and JusticeDr. Yogendra Kumar Srivastava while dealing with the petition filed by Badri Narayan Shukla Associates for issuance of writs in nature of Mandamus and Certiorari has held that, "Pure contractual obligation in the absence of any statutory complexion would not be enforceable through a writ." The petitioner has approached court under Article 226 for issuance of writs in nature of
[…]
December 8, 2020
Welcome to Brandwiki Network. This is your first post. Edit or delete it, then start writing!
December 7, 2020
The Supreme Court in, Skoda Auto Volkswagen India Pvt Ltd v. State of Uttar Pradesh, while upholding the decision of Allahabad HC, rejected the SLP of Volkswagen and reiterated the findings in SM Datta v. State of Gujarat, which said that the criminal proceedings ought not to be scuttled at an initial stage. The NGT in the case against the petitioner(Volkswagen) stated that they were liable for harm done to the environment instituted a joint team of experts but in the meantime asked the petitioners to deposit 100 crores to CPCB. The petitioners approached the SC and during this while
[…]
November 25, 2020
The State Government's consent is mandatory for a CBI investigation in its jurisdiction and the agency cannot conduct a probe without its nod, the Supreme Court has said. A bench of Justices A M Khanwilkar and B R Gavai said the provisions are in tune with the federal character of the Constitution, which has been held to be one of its basic structures. The Apex Court referred to Sections 5 and 6 of the Delhi Special Police Establishment (DSPE) Act, which deal with the extension of powers and jurisdiction of special police establishment to other areas and consent of state government to
[…]